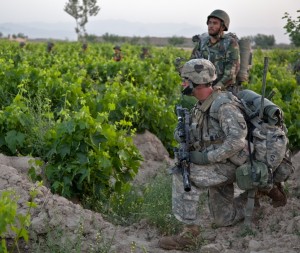 I was reading an article on www.wineeconomist.comby Mike Veseth. He pointed out how human conflict sooner or later reveals itself in wine. I find this thought-provoking -  history has shown us this reality and it is certainly present today whether across borders, states, or even AVAs (American Viticultural Areas).
Mike went on to explain a really neat program formed by Michelle Moyer.  Michelle is a statewide viticulture extension specialist for Washington State University and has created a presentation for the national extension Grape Community of Practice (GCoP) specific for troops fighting in Afghanistan.  The presentation gives troops a crash course in vineyard production teaching them everything from what a vineyard in Afghanistan may look like (often quite different than the neatly manicured vineyards of Napa), to how to grow grapes, to the potential fungal threats on the Afghan vines.  The presentation takes particular care to educate troops on the delicate issues specific to the country such as water rights, etc.
I'm glad to read that even in time of war, vineyards are a catalyst to bringing harmony and hopefully peace to countries who are in need of a ray of hope.
Photo:  Members of the 2nd Battalion, 502nd Infantry Regiment, 101st Airborne Division, patrol a grape vineyard with members of the Afghan National Army in Char Shaka, Kandahar province, Afghanistan, on April 28, 2011. (U.S. Army photo by Pfc. Justin A. Young). Picture from www.wineeconomist.com
If you'd like to read the entire article, click on the link above.